Canteen Kitchen Equipment Manufacturer
Canteen Kitchen Equipment Manufacturer
Canteen Kitchen Equipment: Essential Tools for Efficient Food Service
A canteen is where many people gather for meals, like in offices, schools, factories, hospitals, and even factories. Kitchens at canteens should be equipped with specific equipment that efficiently meets a vast crowd's needs.
Kitchen equipment for canteens must be sturdy, reliable, and simple to maintain to meet the needs of busy canteens. Here you will get an idea about canteen kitchen equipment. Let's have a look.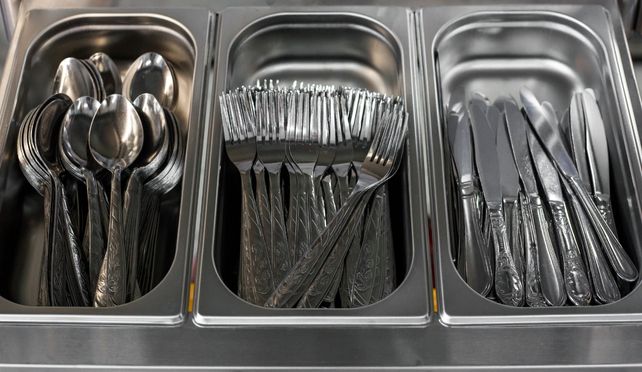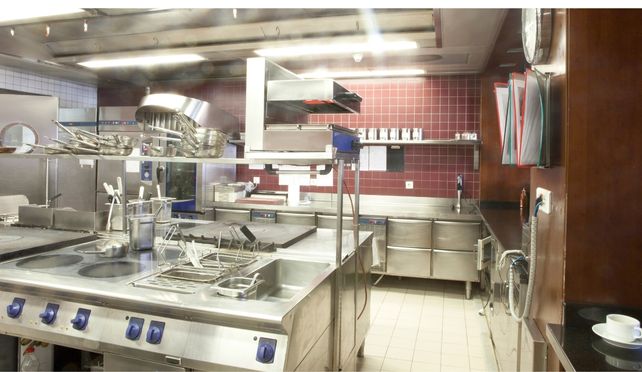 What Are The Canteen Kitchen Appliances?
The Canteen means a space for kitchen facilities so everyone can easily store food and prepare meals.
To handle the demands of high-volume meal service, a canteen's kitchen needs to have a few key appliances. Investment in the right equipment is essential for effective, high-quality, and secure food service, even though the particular devices needed can differ depending on the type and size of the Company.
To store food safely, refrigerators are a need in a canteen's kitchen. They are available in various sizes and designs, such as walk-in, double-door, and single-door refrigerators. They are used for preparing uncooked meals and beverages.Griddles are cooking surfaces with flat sides used for cooking food items like eggs, pancakes, and bacon. In the kitchens of canteens, griddles are essential to making breakfast dishes in huge quantities. They come accessible in various sizes and are powered by electricity or gas.
Foods like rice, vegetables, and shellfish are cooked using steamers. Steamers are essential in canteen kitchens for preparing vast quantities of food quickly and healthfully. They are gas or electric driven and come in a range of sizes.
Raunak kitchen is the top Canteen kitchen equipment manufacturer in Mumbai. Our great team is working with us to manufacture various Canteen Kitchen equipment.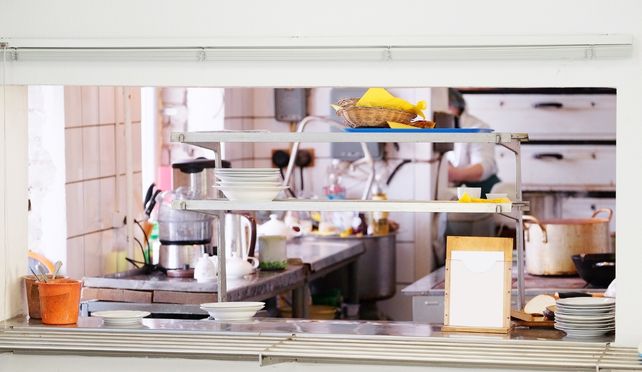 Canteen And Kitchen Appliances Suppliers
Household kitchens differ from kitchens in a Canteen. The kitchen appliances are typically small equipment and the items required to cook meals. Commercial kitchens have huge utensils, as well as large equipment.
These machines serve to cook food for large groups of patrons inside the Canteen. It is essential to select the right company that can provide the best manufacturers of Canteen Kitchen equipment. Raunak products are one of the top Canteen Kitchen equipment suppliers in Mumbai, Maharashtra.
Purpose Of Canteen Kitchen Equipment
The purpose of the Canteen kitchen equipment is to provide a productive and effective workspace for professionals in food service to cook food and service in a large-scale setting.Canteens cater to a considerable number of people.
The equipment they use must meet the demands of large-scale food production while maintaining safety and quality standards. Kitchen equipment for canteens is designed to aid chefs and kitchen staff prepare huge quantities of food quickly and efficiently.
The kitchen appliances used in kitchens for canteens have been specifically chosen to ensure their power, capacity, and endurance. They have to be built to withstand repeated use, heavy loads, and high temperatures.
A kitchen with the right tools is essential for hygiene and food safety. Food items are guaranteed to be preserved at the proper temperature and are guarded against the growth of hazardous bacteria thanks to appliances like refrigerators and freezers. Dishwashers and sinks help to maintain cleanliness and hygiene standards while lowering the risk of food contamination.
Our products are made for all these purposes. We can ensure we will give you a good product that meets high-quality standards. We are the best manufacturers and Traders In Mumbai, India.
Menu And Kitchenware For Canteens
Selecting the correct kitchenware for your Canteen is crucial based on the menu and the food to serve. Preparing food with excellent equipment can increase the taste of your food. While offering several options to accommodate a range of tastes and dietary requirements, menus should be simple to make and quick to serve
A range of cooking equipment, such as grills, ovens, stovetops, or deep fryers, may be required depending on the food items on the menu. The machinery must be energy-efficient and built to accommodate the quantity of food your customers demand. Dishwashers, sink, and other cleaning supplies are essential to maintaining the cafeteria's cleanliness and safety.
The selection of the best menu and kitchenware for your Canteen is essential to its achievement. The equipment must be simple, effective and safe to ensure that meals are cooked promptly and cleanly. Partnering with trusted producers and suppliers is essential to ensure the equipment is safe and meets hygiene standards. Also, ensure your kitchen is adequately equipped to meet your customers' needs. Our kitchen equipment can help you well. Raunak kitchens are among the best canteen equipment suppliers in Mumbai, India. You can contact us with any questions or concerns. We are here to assist you.
Canteen And Kitchen Stainless Steel Equipment
Kitchen and canteen appliances frequently use stainless steel as a material because stainless steel is incredibly durable, easy to maintain, and resistant to rust and corrosion.
Stainless steel dishwashing equipment, which includes sinks, racks, and dishwashers. They are ideal for extensive cleaning in kitchens and canteens because they are solid and straightforward.
Stainless steel is used in various cooking appliances, including ovens, stovetops, and grills. Stainless steel cooking utensils are durable and straightforward to maintain, which makes them perfect for use in industrial kitchens.
Our stainless steel products are widely acknowledged. We sell high-quality materials at a low price. Our Company produces high-quality materials. If you're looking for stainless steel materials, the Raunak Kitchen is the best alternative. In Maharashtra, Raunak Kitchen is the leading manufacturer and trader.
Kitchenware For The School Canteens
When setting up the school canteen, choosing the correct kitchenware is essential to ensure that food is prepared safely, efficiently, and safely.
So, to serve meals in large quantities, You will need the best equipment for your Canteen. Refrain from being worried Raunak Equipment is among the most reliable manufacturer of school kitchen equipment for Canteens. You can purchase any kitchen equipment you need for your school's Canteen from Raunak equipment for a reasonable cost.
Canteen Kitchen Equipment List
Work tables
Sinks
Cabinets and shelving
Trolleys and carts
Countertops
Cooking equipment (stovetops, grills, fryers, ovens, etc.)
Serving equipment (trays, bowls, utensils, etc.)
Dishwashing equipment (sinks, racks, dishwashers, etc.)
Refrigerators and freezers
Food processors and mixers
Blenders and juicers
Grinders and slicers
Toasters and sandwich makers
Rice cookers and steamers
Coffee machines and hot water dispensers
Microwaves and convection ovens
Exhaust hoods and ventilation systems
Fire suppression systems and extinguishers
Cleaning equipment (mops, brooms, buckets, etc.)
Waste management equipment (trash cans, recycling bins, etc.)
This list needs to be more comprehensive and could vary based on the dimensions and types of the Canteen. It's crucial to consider the equipment required based on the menu and activities of the Canteen to ensure that it's adequately equipped to prepare and serve meals efficiently and safely.
Our Post-Purchase Support
Raunak Kitchen considers post-purchase support necessary when buying kitchen equipment for a canteen. Our major offerings include
Installation:Our Support team will assist in installing and commissioning the equipment to ensure it is appropriately set up and operational
Training:We are offering training to the canteen staff on how to operate the equipment safely and efficiently.
Maintenance and repair: Our staff will provide the appropriate maintenance and repair services to ensure your equipment is maintained in good condition. This may include periodic maintenance inspections, replacement parts, and repairs as required.
Technical Support:Our vendor can provide technical support to resolve any issues arising from the equipment.
Upgrades and customization:To ensure that your equipment is optimized for the particular requirements of the Canteen, our staff can offer upgrades or bespoke alternatives
Ensuring the kitchen equipment is maintained and functioning correctly after purchase can confirm that it lasts longer, requires less downtime, and performs better.
It is essential to look at the amount of post-purchase assistance the fitting manufacturer provides in making a purchase decision.
Why Choose Us?
The use of quality equipment is crucial to the smooth and efficient functioning of a commercial kitchen. Raunak Kitchen uses high-quality materials and adheres to strict quality control measures to ensure all of our kitchen types of equipment are long-lasting, reliable, and last efficiently over the years. Having the right tools can increase productivity and efficiency in a commercial kitchen. We offer tools made expressly to streamline processes and increase output.
By choosing Raunak Kitchen, you can ensure that your kitchen appliances will be cost-effective in the long run. The most significant devices cost less to maintain and replace over time because they last longer.
Conclusion
Kitchens in canteens require top equipment and appliances to safely cook food in large quantities. We use iron, stainless steel, and copper to create kitchen layouts. We also make an industrial kitchen set-up ideal for small-scale establishments such as restaurants. We are the best Manufacturer and supplier of Canteen Kitchen Equipment in Mumbai, Maharashtra.
Contact Know