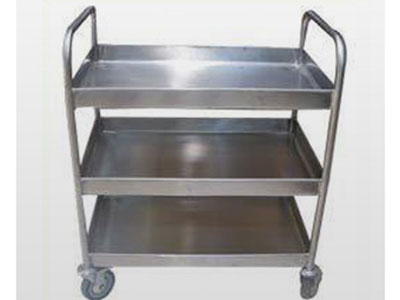 Kitchen Utility Trolleys
Description:
Structure:Open Top
Load Capacity (kilogram):50-100 kg,0-50 kg
Capacity: 500 kg to 5 Ton
Material:Stainless Steel
Color:Silver
Brand:Raunak
Type:Drum Trolley,Hydraulic Trolley, Shopping Trolley, Luggage Trolley, Housekeeping Trolley
Wheel (piece):4
Finish:Glossy
We offer an extensive range of Kitchen Utility Trolleys that are widely demanded for various applications. These increase the total surface area of the kitchen so more work can be accomplished when the need arises. These can be easily moved from one place to another as per the suitability of user. These are widely used in domestic as well as commercial kitchen in various restaurants and hotels.
Features: • Easy to handle • Durable • Corrosion resistant • High storage capacity.