Restaurant Kitchen Equipment Manufacturers
Restaurant Kitchen Equipment Manufacturers
All About Restaurant Kitchen Equipment;That You Should Know Before Buying.
Are you planning to start a new restaurant? Several factors come to your mind. Which is the first thing that comes to your mind? Restaurant Kitchen Equipment, right?
Restaurant Kitchen Equipment is a crucial component for running a good restaurant business. The amount of Equipment required will depend on the dimensions, scope, and type of Restaurant.
We all know that a restaurant is a core activity where preparing delectable dishes for customers. That said, the kitchen equipment has to be in the right place.Here you will get all Information about Restaurant Kitchen Equipment. Let's explore.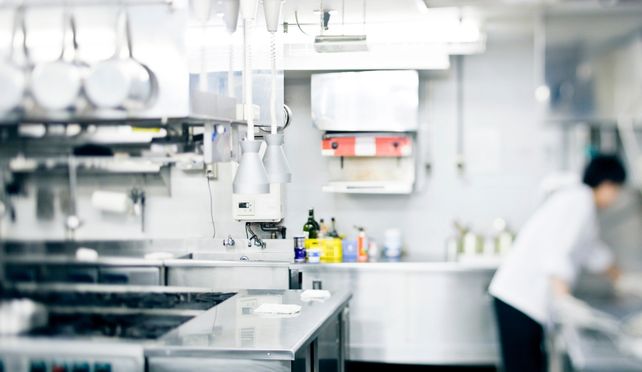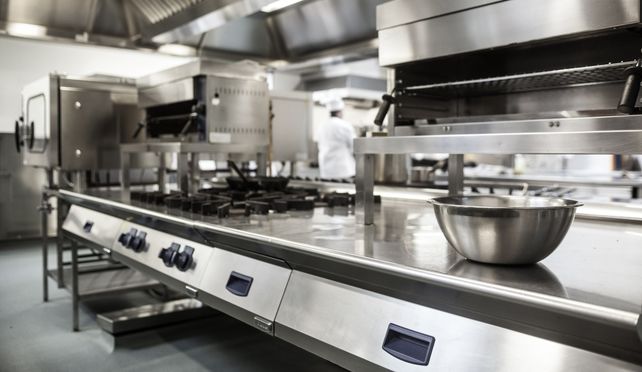 Kitchen Equipment For Restaurants. How Does This Work?
Various tools and appliances are included in Kitchen equipment for restaurants that are required for making food. We can only do something with the help of Restaurant kitchen equipment.
The commercial restaurant environment needs a significant kitchen appliance to satisfy customers' needs. Purchasing high-quality Equipment is essential because it will improve productivity and speed up service.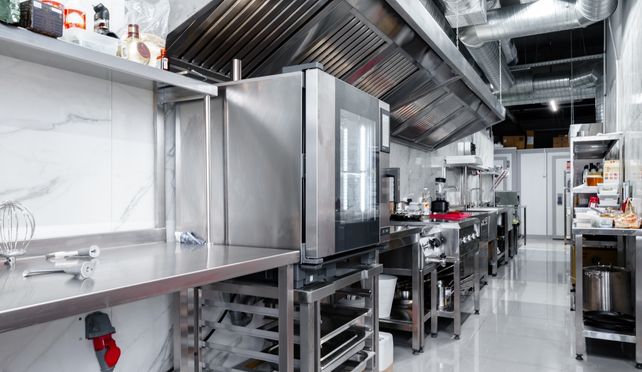 What Is Restaurant Kitchen
This is where food is prepared and served to people in the Restaurant. Here we need a lot of equipment to make work easier. The kitchen in a restaurant can differ in size and layout according to the Restaurant's type serving the menu and the number of guests that are done.
When it comes to a restaurant kitchen has a few different aspects—for example, the hot and the cold sections. They will prepare salads, ice creams, etc., in the stern area. In the Hot section, they will make fish, meat, etc., and cakes and desserts are made in the pastry section.
You can choose us, Raunak kitchen, for all setup you need in your Restaurant Kitchen. We are ready to help you with our Outstanding service. We are the best restaurant kitchen manufacturers in Mumbai
Restaurant Kitchen Equipment List
We provide affordable premium quality Restaurant Kitchen types of equipment In Mumbai. We are always considering what customer needs. We give more importance to the needs of the customer.Our Main Products are Dough Kneaders, Pulverizers, Grinders, Meat miners, Potato peelers, Vegetable cutters, and Vegetable slicers.
This product will get in your with the best quality only. Quality is the priority that we can give to our customers. This makes us the best Restaurant Kitchen Equipment Suppliers In Mumbai, India.
Indian Restaurant Kitchen Equipment
In Indian restaurants, kitchens have different kinds of tools and types of Equipment. The method of Indian Cooking is also other. In most situations, Indian Cooking takes time.
In this case, Raunak Kitchen, the best restaurant kitchen trader in Mumbai, will be ready to help you with all your concerns. We offer customers the best quality products at the Lowest Price. We create products by understanding all the needs of customers. This will help you to reduce the time-consuming process with our unique products.
Choose The Right Kitchen Tools And Equipment For The Restaurant
We ensure that our products are manufactured and constructed using high-quality materials. We design and build our kitchen equipment and utensils from the finest stainless Steel. Knowing that your gadgets and tools are made using the highest quality materials has numerous advantages. Aluminum, Stainless Steel, and irons are common kitchen materials that we employ.
Choosing low-quality Restaurant kitchen equipment will badly affect your Restaurant's reputation and the food quality. Food quality is a Major part of the Restaurant Industry. We can't compromise the food quality. We have an excellent team to build the Best quality Restaurant Kitchen Equipment at the lowest price. Our Raunak kitchen will save you from buying Cheap, standard, quality equipment. We are the best Manufacturers in India.
Kitchen Equipment For A Small Restaurant
As we already know what are the big Kitchen Equipments.Have you ever think how this works in small restaurants?
We must put the exact product in small restaurants for a helpful experience. You have to set up essential kitchen appliances for your business. Along with this, you need to choose the best quality products for your uncompromising food makings. The demand for a Commercial kitchen in a restaurant is very high. However, a smaller restaurant requires the right equipment and tools to complete all Cooking tasks. You'll need a top Restaurant Equipment Manufacturer to assist you in accomplishing these tasks.
We are the best solution for choosing the best Restaurant kitchen types of Equipment in Maharashtra. We designed our products for customers' exact needs. It doesn't matter whether you have a small or large business.
Factors To Consider Choosing The Right Manufacturers
Choosing the proper manufacturer is an essential factor that will impact the business's success.Now, you will think about what factors will consider. Let me explain,
The main factor is to consider the equipment quality you are buying. Always Remember food quality is your priority. Make sure that the manufacturer is producing high-quality Equipment or not.
Price is another factor that you should consider. Because every penny is worth it. The cost of manufacturing is a significant factor when selecting the manufacturers.
Time should also be an essential factor. Ensure that manufacturing time is met with your business needs.
After considering all these factors, we are ready to help you. Our products are made with high-quality materials at the lowest price. We are very early at our delivery stage. Raunk Kitchen can give promise for best restaurant kitchen equipment in Mumbai.
Cooking Utensils For Fast Food Restaurants
As it names like fast food, the industry is also growing very fastly. So we know how much this industry needs suitable types of Equipment. Raunak Kitchen equipment is ready to serve your fast-food restaurants.
Our Products will become very useful for Fast food restaurants. We are the best manufacturers you can find in Mumbai.
Used Restaurant Kitchen Equipment
Each piece of Equipment utilized in the kitchen needs to improve its effectiveness in providing the necessary services.
Many companies renovated these tools and other Equipment and attempted to market used kitchen equipment in Mumbai and various states. The Equipment used is not appropriate for kitchens designed for professional use.There is no point in buying used Equipment. You can buy Raunak Kitchen's New Equipment at the Best price on the market.
Consideration For The Long Life Equipment
When we buy a piece of Equipment, we value its longevity. Considering Long life equipment is an essential factor in your business. s withShould make the equipment for life-extended use, high-quality materials.
Raunak Kitchen's products are made with high-quality materials. We are the best Stainless steel manufacturers and traders in Mumbai. You can trust us. We will deliver you the Long Life Equipment with high quality
Pantry Equipment Manufacturers in Mumbai
Raunak Kitchen is the manufacturer of Kitchen equipment in the market. Pantry equipment is essential for setting up Restaurant kitchen equipment. Our pantry equipment is a Dosa plate, Deep fat fryer, Pasta Broiler, etc
These Equipment are beneficial for your restaurant pantry. The type of Equipment for the pantry can be based on the kind of food items to be prepared or stored, as well as the preferences of the chef or cook who uses the pantry. Our products are the best option for your pantry equipment. We are in the top 10 Manufacturers in the Mumbai list.
Stainless Steel Manufacturer
We are the best manufacturers of stainless Steel. In various industries, including construction, transportation, manufacturing, and consumer goods, including cookware, cutlery, and kitchen appliances, stainless Steel is widely used.
It is praised for its strength, endurance, resistance to corrosion, and appealing appearance. Stainless Steel can be utilized for various uses, so it appears in varying types with multiple extents of corrosion, strength, and heat resistance.
System Of Support
As a Manufacturer, we know the importance of every business. We are ready to help you with the after-sale service. Our system of support is more efficient than you expect.
If one of our products or pieces of Equipment needs repair or maintenance, we help our customers. We perform all tasks, including repair and maintenance.
Conclusion
Raunak kitchen has the best team for this entire journey. We are the best manufacturer in Mumbai. We keep an eye on every process. Customer satisfaction is our priority. So we will manufacture our products with what customer needs. We are the best traders in Mumbai, Maharashtra. Raunak Kitchen offers you the best products at the lowest price.
Contact Know