Hotel Kitchen Equipment Manufacturers
Hotel Kitchen Equipment Manufacturers
Finding The Best Hotel Kitchen Equipment: A Comprehensive Guide
Ready to buy Hotel Kitchen Equipment and concerned about the products simultaneously?
Here we are guiding you through the best Information about Hotel Kitchen Equipment you will ever get. First, let's Read the whole article.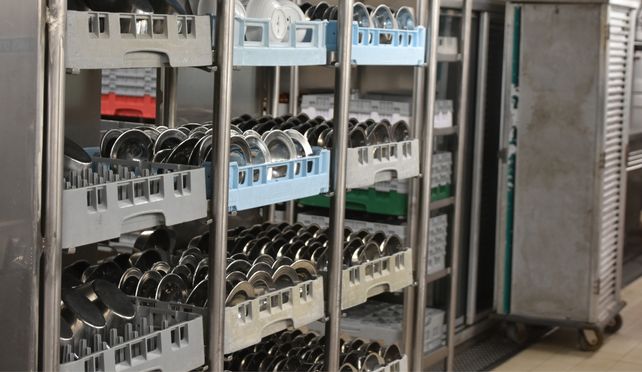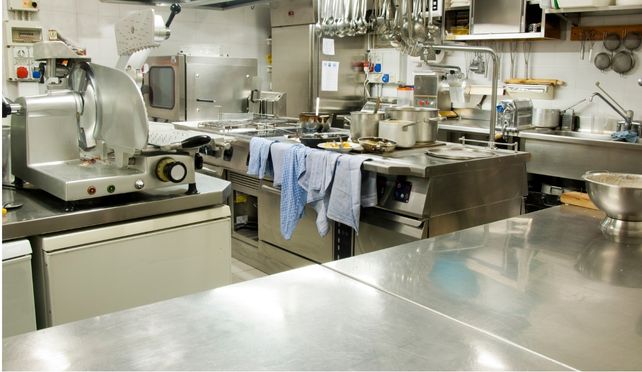 What Is Hotel Kitchen Equipment?
The different equipment, utensils, and equipment employed in the kitchens of hotels to cook, prepare, or serve meals are all referred to as kitchen equipment used in hotels. Electric or gas power is used to operate the machinery, and this ultimately depends on the specific need of the hotel.
Kitchen equipment comes in different sizes, uses, and working systems modes. The leading Kitchen equipment is Ovens, Mixers, Grills, Deep fryers, etc. Choosing the right equipment will always help your Hotel Kitchen.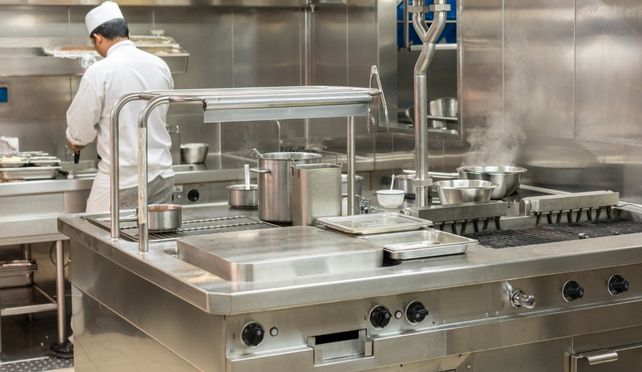 Uses Of Hotel Kitchen Equipment
Kitchen equipment is beneficial For preparing food. In the olden days, the food they organized differently, and the tools and equipment were also different. They used to make ample food, but it would take a lot of time. Now in the modern world, everyone wants innovation. Hotel kitchen Equipment is beneficial for time-consuming processes. Here are a few common examples of kitchen equipment in hotels.
Table with sink:

This is used for washing utensils.Comes mainly in Rectangular, Square, and Round shapes.

Storage Rack:

It is primarily used by hotels and Restaurants. According to this Storage Rack, mainly there are four layers, and the load per layer is approximately 100-200 kg and 50-100 kg.

Kitchen Utility Trolleys:

There are five types of trolleys are there.Drum trolley, Hydraulic trolley, shopping trolley, luggage trolley, housekeeping trolley, etc. This is widely used for commercial purposes in various hotels and restaurants.

Stoves and ovens:

It is implemented for dry heat cooking methods like baking, frying, and grilling.
Raunak kitchen's products are always made to the customer's satisfaction. We are the best Manufacturers in Mumbai.
What Separates Kitchen Utensils, Equipment, And Tools?
Commercial kitchens widely use the equipment for the bulk production of foods. The materials are made of stainless steel.
Small, portable kitchen utensils are used for chopping, cooking, and serving food. They include tools like spatulas, spoons, tongs, and whisks and are frequently constructed of plastic, silicone, or stainless steel. Food preparation utensils are often lightweight, affordable, and simple to store.
Regarding measurement and functionality, kitchen tools can be categorized as utensils or equipment. These are portable tools made for particular jobs, including peeling, chopping, and measuring substances. In addition, kitchen tools include cutting boards, knives, measuring glasses, and mixing bowls.
We manufacture our products using the highest quality stainless steel material at the most affordable price. We aim to make sure that our clients are satisfied. We are the top Suppliers and Manufacturers in Maharashtra, India.
Hotel Kitchen Equipment Plan
Proper kitchen equipment planning plays a significant role in this field. Hotel kitchen equipment needs appropriate planning, such as how much food we need to prepare and the available space in the kitchen
Firstly Understand what the required equipment is. We can only buy some equipment. We need to choose what exactly our needs and requirement are.
Analyze the available space; Kitchen equipment needs the proper space they deserve. To make the kitchen efficient and safe, think about equipment location.
Make a budget for the equipment's purchase and installation after deciding on the brands and models that will be needed.
We can help you with your questions; Raunak Kitchen will give you the most effective planning for the hotel kitchen equipment. You can contact us at anytime time. We are the best Manufacturers and suppliers of reliable makers you could find in Mumbai.
Points To Consider Hotel Kitchen Equipment
There are certain crucial considerations to make when planning hotel kitchen equipment. Have you ever felt anxious about what to pick or what to think about when it comes to Hotel Kitchen Equipment? Here are a few points you should consider for Hotel Kitchen equipment.
The type of meals that are served in the restaurant of the hotel will determine the equipment for the kitchen. Ensure the equipment can manage the quantity and variety of dishes listed on the menu.
Consider the number of food items to be cooked to be served at the table. The equipment must be capable of handling the amount without compromising the quality.
The amount of space in the kitchen will decide the dimensions and location of the appliances. Ensure there is enough room for each piece of equipment and that traffic flow within the kitchen is smooth and secure.
Ensure your equipment is secure for use and complies with applicable safety standards. This includes equipment equipped with automated shut-off systems, ventilation systems, and safe electrical wiring.
Select equipment that is simple to maintain and clean. A kit with parts that can be removed and the ability to access internal components.
Pick equipment that is energy efficient to lower operating costs and the environmental impact. Find gear that has Energy Star certification or other energy-efficient ratings.
Select equipment designed to last and withstand the rigours of wear and tear. Make sure to select equipment made of top-quality materials suitable for daily use.
Our products are crafted out of these issues. We are available to help you with all of your questions. Raunak Kitchen and our products are ready to help you. You can contact us at any time.
We Provide Services For Manufacturing Five-Star Hotel Kitchens.
Most businesses use something other than high-end materials to build their kitchens or scullery equipment. So, a poor-quality cooking area can save time, money, and, most importantly, clients' satisfaction. Using stainless steel, Raunak Kitchen creates equipment to create a five-star hotel kitchen. The most modern equipment for hotels is assured through these processes of manufacturing. The leading maker of catering equipment for five-star hotel chains is Raunak. We are the best Suppliers in Mumbai, India.
The Maintenance Process Of Equipments
A thorough, frequent cleaning of all kitchen appliances is crucial. The majority of kitchen appliances can be disassembled in part to clean. Each model differs slightly. Operating manuals must explain the procedure in depth.
If no manual is available, you will need to get the necessary information from someone familiar with what kitchen appliances are used for. Raunak Kitchen will give you the complete details.
We will give you detailed installation, use, and maintenance instructions that you must carefully follow.
Regular equipment cleaning can help prevent dirt, grease, and bacteria.Examine the equipment regularly for signs of wear and tear, such as cracks, corrosion, or scratches. Replace or repair if needed.
To ensure your equipment remains in condition and to identify any concerns that could arise before they do significant problems, We provide our customers with routine maintenance and cleaning services by our skilled technicians.
Ultimately, it will be an excellent time to train your employees on maintaining the equipment. This will assist them in ensuring that they are using the equipment properly and safely.
Raunak Kitchen Provides Manufacturing Services For Modest Hotel Kitchens.
Review the requirements for your hotel's kitchen and prepare an inventory of the appliances. Raunak Kitchen is a great option. Raunak Kitchen provides proper consultation for all your needs.
Be aware that the success of your hotel kitchen is contingent on the choice of the proper manufacturer and the right supplier. Be sure to select an established and trustworthy company that offers high-quality products and services and can help you throughout the life span of your equipment.
We are the best manufacturers and traders who make the best quality products at the lowest price. You can trust us. We are here for all your requirements.
Refurbished Equipment For Hotels
For their operations, many companies buy used kitchen equipment from hotels. Equipment that is used costs more than equipment that is fresh new. Several entrepreneurs prefer to buy out-of-date hotel kitchen equipment. The outdated kitchen appliances might function well for a while but are inappropriate for your business. Old or used equipment is easily broken or damaged over time. Due to this, several companies sell used hotel equipment in Mumbai and other states. It's pointless, of that you can be sure.
Buy from Raunak brand-new, spotless equipment for hotel kitchens. The most dependable suppliers of hotel equipment in Mumbai are us. High-quality primary components are used in the construction of our goods. For hotels, we provide discounts on kitchen supplies
Conclusion
Kitchen equipment for hotels is a crucial component of a hotel's food service operation, which is used for food preparation and cooking as well as serving and preparing meals. The proper equipment will help ensure guests receive quality tasty, safe, and nutritious food. In addition, it will help you ensure that The kitchen runs effectively and efficiently.
To preserve the equipment's long-term functionality and safety, constant monitoring and cleaning are necessary to avoid troubles or breakdowns. Most kitchens of hotels will run efficiently, safely, and successfully while providing excellent food service to guests if you conform to maintenance principles.
The most dependable manufacturer, supplier, and wholesaler of kitchen supplies for hotels is us. The expert in creating and manufacturing hotel equipment is Raunak Equipment. We only work with the top candidates with the required industry knowledge. For their businesses to run smoothly, restaurants need top-of-the-line and appropriate equipment. For this reason, we offer an excellent setup for the hotel's kitchen division.
Contact Know