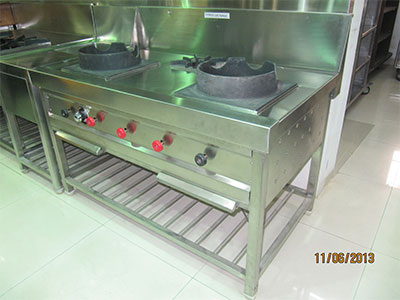 Chinese gas
Description:
Top made of 304 food grade stainless steel
16 gauge s.s.sheet, with back splash of 18" high With 2 swivel type faucet.
With 4" wide s.s.drain channel at front.
Provided with 2 nos.H.P burner having special chinese work dome rest of 5" height.
1 no.low pressure burner for stockpot
Burner provided with needle control valve and pilot lamps With 20 guage s.s.spillage trays,with sides,back and front of 18 guage s.s.
Front panel provided with control knob and faucet.
38X38mm square pipe legs with pipe under shelf and adjustable nylon bullet feet.